LOS ANGELES (LALATE) – The Springs Fire 2013 (fire map below) aka the Ventura County Fire that began in Camarillo this morning is now prompted closure of Pacific Coast Highway (PCH). The Springs Fire 2013 first started in Camarillo Springs near the 101 Freeway. While the 100 Freeway is now open, the fire could reach PCH by later today May 2, 2013, officials warn news.
The Springs Fire started shortly after 6:34 am PST today. At the time LALATE first broke news of the fire, it was nestled around the 101 freeway at roughly 30 acres. But by midday today, the fire has grown to 6500 actress. Two homes have been lost, two other structures are damaged.
Capt. Don Aguilar of the Ventura County Sherriff's department tells news that no significant containment has been reached.
First a shelter has been set up at several locations. The Red Cross has one at the Thousand Oaks Community Park, 2525 N. Moorpark Road, and Camarillo's Calvary Community Chapel, 380 Mobil Ave. Newbury Park High School sent all students home at 10:30 am today. Also sent home were students at Sycamore Canyon Middle School.
Evacuation orders are expanding. By 1 pm today, they are mandatory for the Dos Vientos neighborhood of Newbury Park, the Camarillo Springs area of Camarillo, Cal State Channel Islands and the area south of Potrero Road to Pacific Coast Highway.
The first burned area today was roughly two thousand acres nestled between n Camarillo and Newbury Park. Ventura County Fire Department spokesman Bill Nash warns that residents in other areas should be prepared in case of new evacuation orders.
Nine minutes ago, the City of Malibu issued the following news statement. "PCH is closed between Yerba Buena and Las Posas effective 1:00pm due to Camarillo fire". There is massive traffic backups as far as the 10 Freeway today as well. For continuing coverage of the fire, click HERE. Below is a map of the fire's origin shortly after sunrise today and a more recent map at 1:23 PM PST today


1:24 PM PST: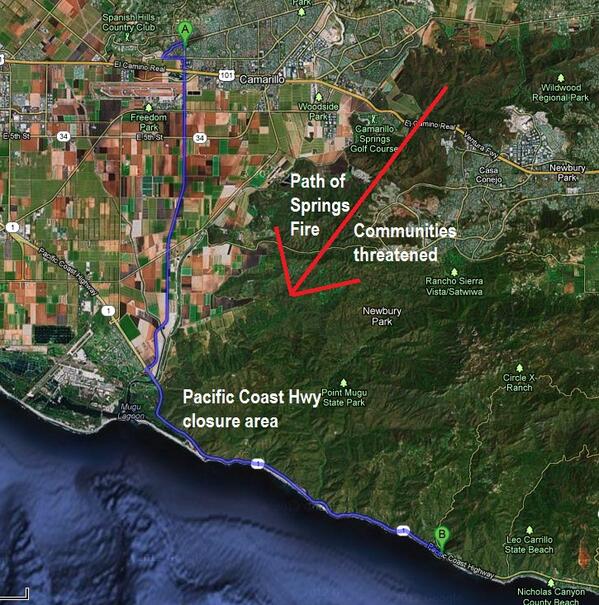 ORIGIN:

View Larger Map