LOS ANGELES (LALATE) – The Camarillo Fire 2013 (fire map below) aka the Springs Fire continues to advance near Newbury Park. But the latest news update on the Camarillo Fire is positive as of 3:30 PM PST today May 2, 2013.
The Camarillo Fire has advanced but still not destroyed homes. Officials gave the fire multiple names today including the Camarillo Fire, the Camarillo Springs Fire and simply the Springs Fire. But while the smoke continues to blow over Newbury Park, improved weather conditions have helped the situation. Yet, with evening gusts not unusual for Southern California fires, residents are still on alert tonight.
Currently, five hundred firefighters are on scene. Two thousand residents have been evacuated. All their evacuation orders remain in place. The number of acres burned – 6500 – has not been updated by Cal Fire for nearly four hours. News analysts estimate the fire is now close to about 8000 acres burned.
The fire which erupted close to 6 am first began in Camarillo near the 101 freeway. It was fueled with high winds and record temperatures. Camarillo is believed to have set a new record high today at roughly 96 to 97 degrees, breaking an old record of 94 set nine years ago.
The big change is the wind and humidity as we approach 4 pm today. The fire was advancing with a mere two percent humidity earlier this morning. Officials now believe that the humidity levels have jumped dramatically, which is good news.
The beach area is also producing humidity levels of upwards of fifty-percent, also good news in fighting the fire's advance. And finally there is a westerly breeze along the coast tonight. That will push the fire back onto itself as the fire advances over Point Mugu.
The other big change is the winds. A wind advisory has been cancelled. Winds were blowing as much as 70 mph in the mountains earlier today. Now they are at 40 mph through the mountains. Point Mugu Mission essentials teams are still on base. But the rest of the base has been evacuated. Cal State Channel Islands has been evacuated. And their classes are cancelled for tomorrow.
And finally, PCH has completely reopened since 3 pm today. For continuing coverage of the fire, click HERE. Below is a map of the fire's origin shortly after sunrise today and a more recent map at 1:23 PM PST today


1:24 PM PST: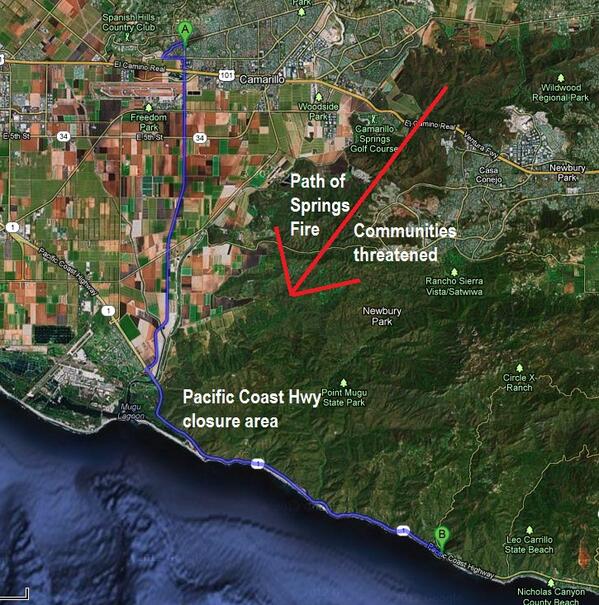 ORIGIN:

View Larger Map